Shop our new Spring arrivals in all categories!
Login
Log in if you have an account
Dont have an account? Register
OUR TEAM
We have got a bit of country mouse, city mouse going in our partnership. Lesley and Bill King are financial-executives-by-training who have leaped full force into both the Old Greenwich neighborhood and the Organic Farming community. Jeff and Katrina Bischoff are the city folk trained in the garment business in NYC, Chicago, and LA. But Jeff has grown sweet corn in any nook and cranny in every city he has called home. We are co-founders of the Old Greenwich Farmer's Market and sell our organically grown vegetables, farm fresh eggs, herbs, and teas every Wednesday afternoon.
FUN FACTS
We are passionate about family, sustainable farming, fine fabrics, fun activities, fresh food, and fellowship. Our favorite authors are Tracy Kidder, Thomas Merton, Michael Pollen, Eric Sloane and Tom Wessels. Our favorite farmers are Elliot Coleman, Fred Kirschenmann, and everyone at Stone Barns and The Back 40. Our favorite smells are fresh hay, fine leather, boiling maple syrup, dried lavender, ground coffee, and fresh bread.
KATRINA BISCHOFF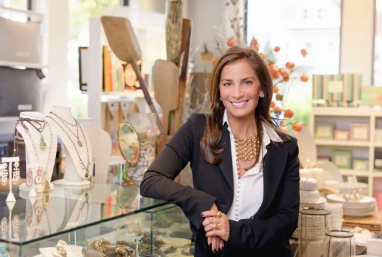 Katrina spent her childhood attending fittings and fashion shows with her fashion designer mother. Katrina grew up in the Windy City, and after graduating from Loyola University she married Jeff, and moved to L.A. Kat fell in love with the Southern California climate and pop culture. She worked for a PR Agency before going to work in the PR department at the iconic Neiman Marcus Beverly Hills. She ran in-store events, designer appearances, and fashion shows and especially enjoyed the VIP shopping assignments. Katrina has built a reputation as a Stylist and jewelry expert and is the store buyer and merchandiser. When Katrina is not working, she can be found beating her sister-in- law in scrabble, riding bikes with her two beautiful children, or walking her dog. Katrina's secret vice is salt but she blames it on her Mediterranean bloodline. Katrina prefers pools to beaches, diamonds to pearls, sun to snow, silk to plaid, pavement to dirt, and heels to ballerina flats. Katrina is the store manager and chief of style.
JEFF BISCHOFF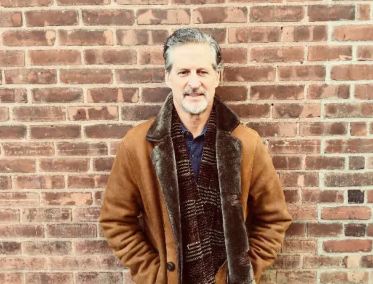 Jeff spent his childhood reading Eric Sloane's Diary of an Early American Boy and the Burpee Seed Catalogue while redesigning his ideal garden every year. After a successful career in the garment industry, Jeff redefined himself as an executive recruiter first for Oppenheimer and then Smith Barney and UBS before going independent. Jeff now works for himself out of an office in Old Greenwich and can frequently be found buying coffee at Sweet Pea's or supplies for his latest garden project at Feinsod's. Jeff's not so secret vice is Maple Syrup – he loves tapping the trees, boiling the syrup, and drinking it straight up. Jeff prefers Syrup to wine, tractors to race cars, seersucker to flannel, tomatoes to candy, building projects with his kids to working at a desk, Farm & Field to People Magazine, and Honey to Corn Syrup. Jeff is chief idea guy.
LESLEY KING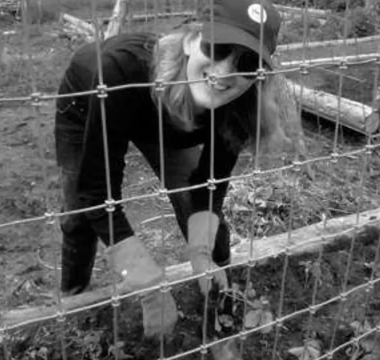 Lesley spent her childhood keeping up with her seven siblings (including Jeff), working her way through school, and bossing everyone around. She married her high school sweet heart, had a successful career as a Wall Street Sales Manager, had four kids, and is living the dream as the wife of Farmer Bill. Lesley is passionate about Old Greenwich and organic food. She can't cook and is not such a good gardener so she is darn lucky to be surrounded by others much more talented in these areas. When Lesley is not reading, she can be found working with Partners In Health and Village Health Works on issues of Social Justice, selling veggies at the Farmer's Market, beating her sister-in-law in scrabble, walking kids to school, or hosting her large family gatherings. Lesley prefers baking to cooking, organic to chemically poisoned, mint to garlic, dessert to dinner, books to sports, water to beer, low tide to deep sea, Old Greenwich to anywhere else. Lesley is chief of quality control.
BILL KING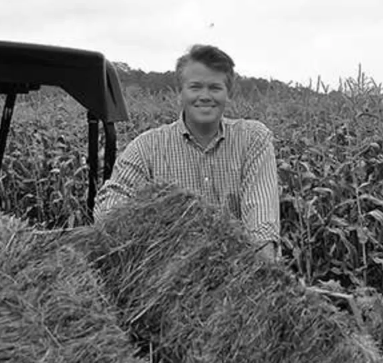 Bill spent his childhood riding dirt bikes, clearing woods, raising goats, and eating home cooked meals but then moved to the fast paced world of New York City. After a successful career on Wall Street, Bill has spent the last six years exploring his passion for farming, food, and investments in both. Bill co-founded the Old Greenwich Farmer's Market with Jeff alongside the Burke and Evans families, and is often the brains and strategy behind our collective efforts. When Bill is not immersed in financial models, he can be found planting vegetables, expanding our farm, talking about improving organic food systems or working on behalf of the Stone Barns Center for Food and Agriculture where he is an active board member. Bill brings passion and drive to everything he touches. He is passionate about his family and his wife of 22 years. He is passionate about Trinity Church and his leadership responsibilities. His secret vice is planting flowers and really anything that grows. He prefers nature to pavement, hiking to running, music to silence, kale to candy, friends to solitude, good wine to soda, college basketball to opera, working to resting, and U2 to Van Halen. Bill is just plain chief.
WENDY PUTNAM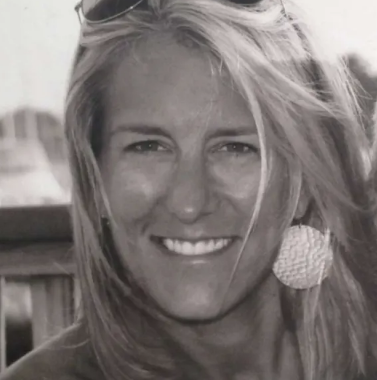 Wendy grew up in Riverside and graduated from Greenwich public schools where she played lacrosse and field hockey. After college, Wendy began working in the fashion industry and most recently for ten years with Ralph Lauren in NYC, where she worked in management and business strategy. Wendy loved her career in the city, but is happy to be back in OG where "everyone knows your name." When Wendy is not working, she can be found spending time with friends and family, taking beautiful photographs of Tod's Point, traveling, or working out hard. Wendy's surprise vice is the Back 40 Grain Salad which she is "obsessed with." Wendy prefers Crossfit to yoga, photography to painting, fruit smoothies to BLTs, flip flops to stilettos, palm trees to snowy peaks, and aviators to tortoise shell. Wendy is store manager and chief of staff.